Wayne Excited to be Back on the Field
Wayne 2021
Class C - Finger Lakes League
Wayne is a respected program in the Finger Lakes and in Class C as they have seen continual growth in the program in the last few years. Although they were finalist in the Sectional tournament in 2018 and 2019, they have be unable to bring home the block.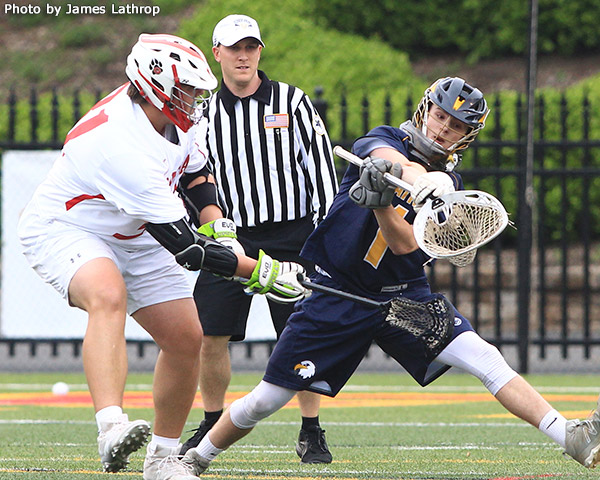 There have been several close games against Geneva so it is clear that the Eagles can win against the Panthers.
There is no doubt that Wayne will have many opportunities for statement games this year. One challenge will be when they play Penn Yan on 5/11 (Tuesday), Aquinas on 5/13 (Thursday) and then Pal-Mac on 5/15 (Saturday). The annual game with Geneva will he toward the end of the season this year (6/03).
In his strong group of seniors this season is four-year varsity goalie, Jack Acker. In the midfield Andy Hamel, Alex Bolt (M/A) and Trevor Kijowski (M/A) are four-year varsity players. Hamel will start his senior year with the Eagles with 60g-10a. He was named to the third team All Finger Lakes as a sophomore and has plans to play at Nazareth next year.
Coach Carlsen is excited about the season: "It's exciting to be back with the boys! I am really looking forward to coaching another great group of respectful boys that work hard, play hard, and are extremely coachable."
Head Coach
Eric Carlsen 6th year 54-19
Assisted by John Hanss, Travis Camp, Ryan Knope
Some Key Players
Jack Acker (12-G), Andy Hamel (12-M), Alex Bolt (12-M/A), Trevor Kijowski (12-M/A)
Key Games
Coach Carlsen says that in addition to his regular rivalries with Pal-Mac and Geneva, they will add Penn Yan this year. In addition, he will look for tough games with McQuaid and Aquinas. He also pointed out that the Finger Lakes teams "are starting to really make strides with their consistent coaching".
See other stories as they are posted: Class A - Class B - Class C - Class D