Bath and Young Team and New Schedule
Bath Haverling 2021
Class D - GRALL League
There are lots of changes in Bath this season. The Rams will play a Finger Lakes League schedule this year, although they will not be in contention for their league honors, they will count on youth to lead the team while playing new competition.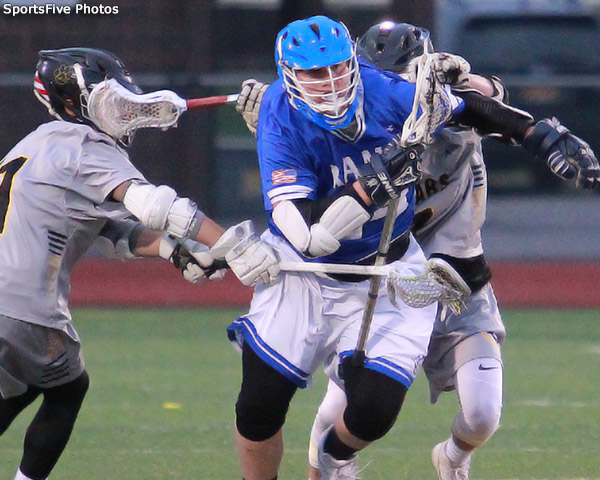 In the attack, junior Jamie O'Neil is returning form a freshman year where he scored 29g-22a. Coach DiDomineck says he is a "hard core laxer obsessed with wall ball and playing the game year-round. He has a high Lacrosse IQ and helps other players with their game." Joining him in the attack is senior Ian DiDomineck who was a starter as a sophomore who had 16g-11a in 2019.

In the midfield and also playing some attack time are sophomre Justin Yehl, quick athlete who is a three-sport athlete and junior Brady Dickson who is also a three-sport athlete. Senior Jesse Blodgett played defense in his sophomore year and Coach DiDomineck expects with his high lacrosse IQ he will be a defensive leader. In the goal is another three-sport athlete, sophomore Ethan Narby who was set to be the starting goalie last year.
The Rams will play each of the Finger Lakes teams once and will play two GRALL teams (Aquinas and Livonia-Avon). Certainly, Geneva, Pal-Mac, Wayne and Penn Yan will be a challenge although in their last game of 2019 they finished with a 15-13 loss to Pal-Mac. There will be plenty of games for Bath to make their mark.
Head Coach
Ken DiDomineck 20th year 128-185
Assisted by - Tom Noteware - Ryan Rooks - Mitch Fuller
Some Key Players
Jamie O'Neil (11-A), Jesse Blodgett (12-D), Justin Yehl (10-A/M), Brady Dickson (11-M/A), Ethan Narby (10-G), Ian DiDomineck (11-A)
Key Games
Aquinas and Livona-Avon

See other stories as they are posted: Class A - Class B - Class C - Class D