GRALL Awards for 2019
May 30, 2019 -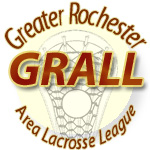 The All-Star list is out recognizing the GRALL players for the 2019 season. Senior offensiveman Ryan McEvily (McQuaid) was named US Lacrosse All Academic from the GRALL and was their Player of the Year.
The GRALL Coach of the Year was Terry Corcoran (McQuaid) and the Assistant Coach of the Year was Shane Cole (Livonia-Avon). The Person of the year was Karen Birch (Bath) and the Bob Scott Nominee was Connor Kelly (Aquinas).
The full list of GRALL award winners are available here.
League Awards for GRALL
PLAYER
TEAM
AWARD
GRADE
1st Team Attack

---

Deats, Jordon
Bath
1st Team Attack
11
Ettinghausen, Maxfield
McQuaid Jesuit
1st Team Attack
10
Lambert, Ryan
Livonia-Avon
1st Team Attack
12
Olbrich, Tanner
Aquinas
1st Team Attack
11
Reed, Jake
Aquinas
1st Team Attack
11
1st Team Defense

---

Birch, Trent
Bath
1st Team Defense
12
Carey, Gavin
McQuaid Jesuit
1st Team Defense
11
Gardner, Caleb
Livonia-Avon
1st Team Defense
11
Harold, Nolan
Bath
1st Team Defense
11
Kalb, Ian
Aquinas
1st Team Defense
12
Kelly, Conor
Aquinas
1st Team Defense
12
1st Team Face Off

---

Miller, Jack
McQuaid Jesuit
1st Team Face Off
10
1st Team Goalie

---

Winters, Connor
McQuaid Jesuit
1st Team Goalie
10
1st Team Midfield

---

Clarke, Reverdy
Livonia-Avon
1st Team Midfield
11
Drake, Caleb
Bath
1st Team Midfield
11
Haugh, Ryan
Livonia-Avon
1st Team Midfield
11
Klimowski, Alex
McQuaid Jesuit
1st Team Midfield
11
McEvily, Ryan
McQuaid Jesuit
1st Team Midfield
12
Honorable Mention Attack

---

O`Neil, Jamie
Bath
Honorable Mention Attack
09
Honorable Mention Defense

---

Martin, Ryan
McQuaid Jesuit
Honorable Mention Defense
11
Honorable Mention Face Off

---

Gimeli, Sebastian
Aquinas
Honorable Mention Face Off
12
Honorable Mention Goalie

---

Conlan, Gavin
Aquinas
Honorable Mention Goalie
10
Honorable Mention Midfield

---

Bohme, Alex
Aquinas
Honorable Mention Midfield
11
Chase, Angus
McQuaid Jesuit
Honorable Mention Midfield
12
Final League Standings/Awards
TEAM
League
1st
2nd
HM
TOT
1. McQuaid Jesuit
6-0
6
0
2
8
2. Aquinas
3-2
4
0
3
7
3. Bath
1-3
4
0
1
5
4. Livonia-Avon
0-5
4
0
0
4
TOTAL AWARDS
18
0
6
24
Players/Awards
120
15%
0%
5%
20%