Rochester Chapter Installs 22nd HOF Class
November 7, 2015 - The Greater Rochester Chapter of US Lacrosse held their 2015 Hall of Fame dinner Friday night at the Burgundy Basin Inn in Pittsford.

Just under one hundred lacrosse fans and celebrities gathered to honor the twenty-second Hall of Fame Class.
Chapter President, Al McLiverty welcomed the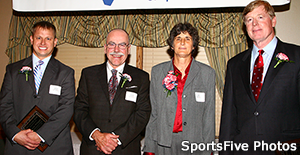 fans and families. Mike Riorden was, once again, the Master of Ceremonies, taking opportunities throughout the evening to tell stories and jokes.
Noting that there were a large number of tables for the Corcorans and also a large number of tables for Irondequoit fans, Mike suggested that the old rivalries would be set aside for the evening, bringing laughter from the audience.
The large number of members of the Hall were acknowledged as well as committees before dinner was served.
After dinner Terry Corcoran started off the celebrations as he and his brother Joe, spoke of the first inductee, their father and long-time coach at Geneva and Corning East, Joe Corcoran. Shawn Corcoran give his speech before introducing his father Terry Corcoran. Frank Maehr and Tom Kleinhammer introduced George Forsyth and Don Smith introduced long time women's official Joan Sitterly. Andrew Whipple was presented after remarks by his Irondequoit coach and Hall of Fame member, John Pratt. A copy of the dinner program is available.

---
Joseph Corcoran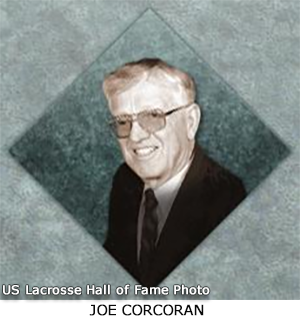 Terry Corcoran started the induction ceremony by talking about his father, Joe Corcoran. He spoke of his father as part of the "greatest generation", of young men who left home to fight in WW II.
"He grew up in Geneva and received a lacrosse stick at an early age" and while undergoing personal tragedies that included losing two brothers and then his father when he was 16, "high school coach Jim Loman took him under his wing." He played for Coach Loman for four years and was a starter in football, basketball and lacrosse. "After graduation, in 1942, he was off to the Marine Corps. After the war he prepared for a career in physical education at Ithaca College where he played four years of football and stared the lacrosse team, serving as player-coach. After Ithaca, he returned to Geneva and coached football and re-started the lacrosse program there. "The program died off during the war. He started the program back up, married my mother and along came myself, and my brother, Joe."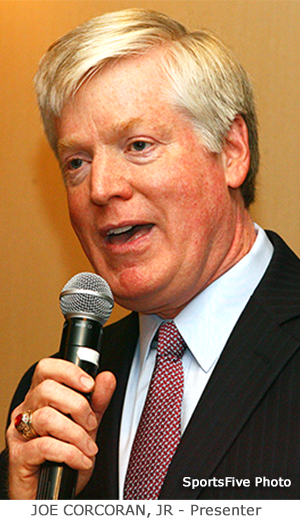 In 1957 he relocated to Corning where he coached championship teams in football, track and wrestling, but it took him until 1967 to get a lacrosse team for Corning. "They won right away without JV teams or a feeder team, just great athletes. Players went on to lead the nation in scoring, played on Championship teams and on World teams. The success was everywhere."
"His players knew, he was tough. He was hard-nosed. He was disciplined He demanded a commitment to excellence but he loved them." .
"Tonight, I know he would have been honored to be inducted here tonight."
Terry then turned the podium over to his brother, Joe. "It's my privilege, tonight, to accept this award on behalf of my father. He would have expressed his appreciation to the Chapter for this honor and I think he would have smiled to have shared the night with Terry. He would have cherished the sight of three generations of Corcorans at these tables."
"My father was a molder of men. He defined success as ward work, discipline, commitment and respect." These were the things that helped so many "on the path to life".
HIGHLIGHTS:
4 years Varsity at Geneva HS - Captain 1941
Started program at Ithaca College, Head Coach 1946-50
Restarted program at Geneva HS in 1956
Started program at Corning East HS in 1967:

League Champs 1968-69
Regional Champs 1971-73
Sectional Champs 1975, 77, 79,80,81
Record at Corning East: 206-36

Ithaca College HOF (1978), Upstate Chapter HOF (1990), Geneva Sports HOF (1992), US Lacrosse HOF (1986).
---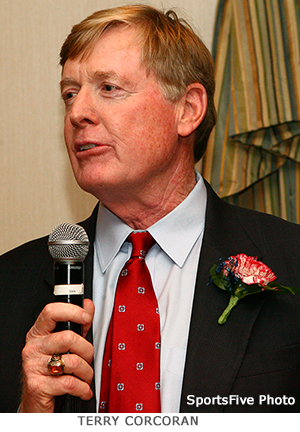 Terry Corcoran
Shawn Corcoran, who played for his father at Elizabethtown College, introduced his father, as the "Corcoran Show" continued.
"Throughout his life, he has had a tremendous impact on the game of lacrosse."
After listing his many accolades as a player, Shawn continued, "I knew, growing up, that is wasn't the accolades, it wasn`t the trophies that are important to him. I knew this because our living room walls weren't decorated with those awards. What was most important to him was that every spring, for three hours, he could do what he loved the most and that was to teach the game of lacrosse."
Shawn continued to say that his father taught much more than x's and o's. "He taught young men to be tough (a theme that he learned from his father). He wanted them to learn how to deal with adversity."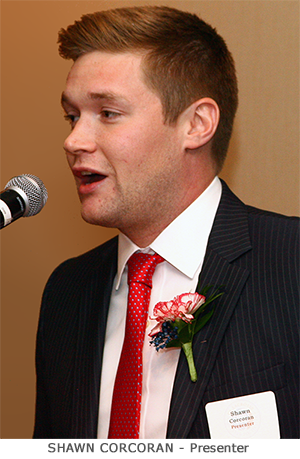 Shawn spoke of his father as a motivator. Before big games he would deliver motivational speeches. "He would have the ability, through his passion, to bring the entire team on the verge to tears and then on a flip of a dime, create the momentum to take forty athletes through a door," which Shawn said, would often end up broken. "I truly think we would have had better equipment if our budget wasn't used to fix so many doors." He was able to teach his players that obstacles could be overcome with hard work and determination.
Terry then took the stage and thanked his mother, his family, his friends and others for their support and friendships. He talked about moving from place to place, "but upstate New York will always be my home." "I was always fortunate to be in the right place and at right time. In Corning, I got to see some of the best players in the country. When I went to Hobart I saw and played with more great players."
"When I got into coaching I was fortunate again. The three coaches that I played for were all in the National Hall of Fame." He played for his father and then Dave Urick and Jerry Schmidt at Hobart. At the start of his coaching career, he assisted his father, then Coach Urick and then a year at Princeton with Coach Schmidt.
"Coaching, for me, has been a love, a joy. It has been a fabulous life. I have coached a lot of fabulous young men."
HIGHLIGHTS:
Two-time HS All-American (1972-73).
Three-time All American at Hobart College (176-78)
NCAA Titles (1976-77).
Led the nation in scoring (`78) and National Attackman of the Year.
Third in career points an assists at Hobart.
USILA Div II-III Attackman of the Year (1978)
Corning HOF (1984), Hobart HOF (1992), Washington College HOF (1984).
NCAA Div III Lacrosse Coach of the Year (1985 and 2005).
Assistant Coach for 1990 World Team Champions.
Winning programs at Washington University, Penn, Skidmore and Elizabethtown College (273 wins). Current Head coach at Wabash College.
Eleven NCAA tournament wins with fifty players and All-American honors.
---
George Forsyth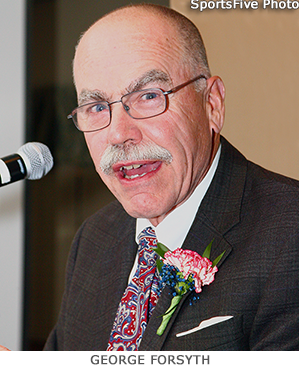 Recognizing a member of the "Grand Masters Division", were Frank Maehr and Tom Kleinhammer. Frank spoke first, noting that he had played with George for fifteen years, including "the old Armory days, Lake Placid, Florida, Vail and numerous tournaments around western New York."
He noted that "George was not blessed with great athletic ability. He is not a great motivational speaker but what George Forsyth is, is bright, articulate individual whose love and passion for the sport of lacrosse is unparalleled." "George has [given] hundreds of hours, putting together men's leagues, various tournaments and charity events around our area. Many people who played in these events were new to the sport. They were in the thirties and forties and they are now coaches, assistant coaches and referees all around Section Five. When it comes to individuals who support the game of lacrosse, George is at the top of the list." Tom Kleinhammer then took the stage to continue introducing George. "For many years, George has been the driving force for creating opportunities for players of all ages. Hundreds of players, with all sorts of ages have played in [his] Wednesday night leagues at TSE."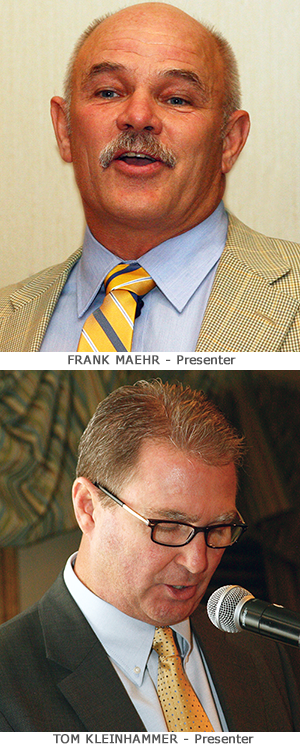 George also managed the Sunday indoor leagues at Total Sports Experience which allowed anyone with an interest and who were willing to get up for an 8:00 am game. He also set up outside spring, summer and fall games. "Because of George, the Rochester area adult players had twelve months of opportunity to play the game."
George also took a leadership role, when there were tough times in the "lacrosse family". He helped create the first Jeff Milano-Johnson Memorial tournaments that raised many dollars for inner city youth in Jeff's name. He helped the Jeff Miller event and helped establish the educational fund for Jeff's children. He also established the Paul Rose Memorial tournament and sponsored many Lake Placid teams over the years.
"I remember George saying, a weekend of lacrosse, a life-time of memories." Tom finished by saying, "George selflessly and tirelessly contributed more of his time and energy for years to promote the game of lacrosse for so many and expected nothing in return."
George then took the podium and thanked his friends and the Chapter for the honor. He said that although he had finally given up playing (in his sixties) he has left the grand masters in good shape.
"I had a good lacrosse career, a good lacrosse time and I simply brought a lot of lacrosse to a lot of people over the years." I would like to close by stating a little 'George Philosophy' about how to live life." He then quoted basketball legend Jim Valvano, who over twenty years ago was given the Arthur Ashe Courage Award for his battle with cancer. Valvano said,
"There are three things we all should do every day. We should do this every day of our lives. Number one is, laugh. You should laugh every day. Number two is think. You should spend some time in thought. Number three is that you should have your emotions moved to tears, happiness or joy. If you laugh, if you think, if you cry, that is a heck of a day.
"So everyone here, have a heck of a day. Thank you."
HIGHLIGHTS:
Played at Phillips Academy.
Played at the University of Rochester.
Co-founded Penfield Youth Lacrosse.
Founded Penfield Girls Lacrosse.
Total Sports Experience Lacrosse Leagues Commissioner for fifteen years.
Organizer for countless games and tournaments over the years.
---
Joan Sitterly

An emotionally charged Don Smith introduced his friend of more than seventeen years, Joan Sitterly. "She has been a true blessing to me and everybody in the United States who ever officiated with her, or ever was taught by her."
Don listed many of her awards and accomplishments that have been earned over the forty-one seasons. She retired from high school officiating last season, but noted that she officiates up to seventy college games a year.
Don pointed out that Joan has helped in the formation of both the Syracuse and Rochester officials boards and has trained all of the top New York State officials who have gone on to work in the college ranks. "I would say that Joan is the best teacher that I have ever learned the game from. She is just absolutely phenomenal."
Don then walked through a math problem, starting with a statement that in the women's game, an official travels three to five miles in a game as they move up and down the field. "So if you take the seventy games Joan had last year, that means that she ran 350 miles. That's a lot of miles. When divided by sixteen weeks, that is a Marathon a week."
The game has changed over its course and the girls are faster and stronger now, but "Joan always manages to stay ahead of the game and she is always at the right place to make the right call at the right time."
Joan then took the stage and thanked the Committee and congratulated her Hall of Fame classmates and thanked her husband, Gary Miller, for the many lost hours while she was at games. "He probably deserves this award more than I do."
"I have always taught officials that you have done a good job when no one notices you on the field, but since I am here, I must not have heeded my own advice."
"I started to play because of Title 9, when, at Brockport, they had to add another women's sport and they chose to add lacrosse. In my senior year I was able to be rated as an official. The rule book then was three inches by five inches and only a few pages long. Those were certainly the years."
Although there have been many exciting championship games, "but really the most rewarding part of my career has been developing officials and that is something I hope to do for many, many years more to come."
In the beginning, girls high school lacrosse started in the Syracuse area, and then it was Section III and Canandaigua." In those years it was hard to find people to become officials. "I taught a course at Cortland, and allowed any adult to take the course. I also coached volleyball at Cortland and all of my players were required to take that course. It was the only way we could keep up with the explosion." She took a moment to encourage the audience to consider officiating, or encouraging others to officiate. What a fun way to make some extra money. She then drew a good laugh from the crowd when she said, "For those of you who are parents, you seem to know the rules pretty well already, so we could really use your expertise on the field."
HIGHLIGHTS:
Women's lacrosse official at all levels since 1974
Officiated NCAA Div II and Div III National Championships
Officiated every NYSPHSAA and Section Five Championship since the inception.
Instrumental in training officials.
One of the first certified officials in NYS.
Central NY Lacrosse HOF (2008), SUNY Cortland HOF, Brockport HOF, Fairport HOF.
US Lacrosse Distinguished Service Award (2014).
Chair, US Lacrosse Region North/South Carolina and Collegiate Women's Lacrosse Officiating Association.
Athletic Director at Cortland.

---
Andrew Whipple

Chapter President Al McLiverty, took "executive privilege" and stepped up to the podium to make a few remarks about Andrew Whipple. As the father of one of Andrew's former players, he spoke about Andrew's grace under pressure and his care for his players.
Andrew's high school coach and Hall of Famer, John Pratt was next to take the stage. John noted that his wife had kept scrapbooks for each of the years John coached at Irondequoit, and while looking over the books from the early 1990's he found many interesting articles about Andrew's accomplishments. One of only four freshmen to play on the Varsity to that point, Andrew used his first year learn the system and then led the team in goals and assists by his sophomore year. In his senior year he broke a number of school records. "So we had a two-time All American, who led his team to a Section Five Championship every year in high school."
After being recruited by Maryland, "how did Andrew stack up at the highest level of Division I? He became a three-time D-I college All American."
And as for coaching, "over the last decade Andrew has taken a program in Pittsford from the youth level and up that reflects what he has learned about success and lacrosse. I believe that Andrew's greatest accomplishments are yet to come."
It was then Andrew's turn at the podium. He noted that "a common theme in tonight's program has been family and friends and that's what got me into the game." He thanked many of his coaches and others in the room, noting the attendance of some of his former players along with two current players who were in attendance. "The more we talk, the more it is clear that it is about family and friends and that's what makes lacrosse special."
He went on to acknowledge how special it was to play for his father and Coach Pratt. "Coming through Irondequoit at that time was special. When my father got back to coaching with Coach Pratt in 1987, I believe the next nine years, we won championships. I don't think that will ever happen again."
Turning, once again to family, he expressed thanks to his father for many hours of playing catch and helping him to improve and to his mother for constant support. "I just want to thank my mom and my dad for everything they have given me and the opportunities they have given me with this great sport."
"Some of the greatest friends that I have in this world is because of this game. That's the greatest thing about lacrosse, it's about how it brings people together."
HIGHLIGHTS:
Two-time US Lacrosse High School All American
Four-time Section Five Champion at Irondequoit.
Two-time All League, two-time Section Five All Tournament team.
Three NCAA Tournament appearances while at Maryland.
ACC Rookie of the year.
Three-time All American while at Maryland.
Two-time Outstanding Attackman Award at Maryland
NLL with Albany and Rochester Nighthawks
MLL with Rochester Rattlers.
Offensive coordinator at Bryan University.
Coach at Brockport
US Lacrosse Section Five Man of the Year (2007)
Head Coach, Under Armour Upstate team and Brine Rochester Nation Classic team
Head Coach at Pittsford.

---