Next Up: NYS Championships
June 6, 2019 - The New York State Championships are up next on Saturday, June 8th at St. John Fisher College.

Fairport vs Massapequa

Senior Colin Gleason had a big night as he scored five of his six goals in the second half to boost the Chiefs past Mamaroneck and send Massapequa to the Championship game. Gleason who has 53g-33a this season is one of five scoring threats for the Chiefs. Sam Lutfi (58g-21a), Garrett Gibbons (30g-44a), Louis Perffetto (40g-23a) and Thomas Greenblatt (30g-25a) all are scoring threats. The Chiefs enter the game with a 19-3 record, having lost to Garden City (7-8) and Chaminade (8-13 and 7-13), but those were early losses and they have not lost since early April. The Chiefs' last trip to the finals was in 2014 and they won their first title when they beat Fayetteville-Manlius 16-2.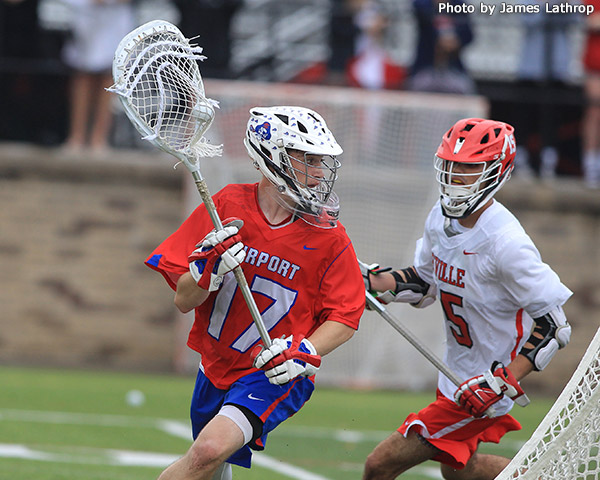 Fairport won their hard-fought game in overtime to reach the Championship round. Klay Stuver scored with an assist from Kole Herren with 0:17 left on the clock to force overtime where Colin Peers scored the game winner, ending the season for Baldwinsville, 8-7.
Fairport enters the game at 18-2, having won their last ten games. Stuver lead the offense in both goals and points with 51g-15a with Peers just behind with 35g-22a.
Four others have over twenty points and there are only two seniors on the offensive stat board. Junior goalie, Tim Defendis has a 58% average this season and has come on strong in the last half of the schedule. He had a 50% game on Wednesday.
The teams have not played each other in the last sixteen years and although the Red Raiders are a young team this year, if their defense and goalie play well it should be a fun game to watch at Fisher.
The game will be played at St. John Fisher College on Saturday at 10:00 AM. Admission, good for all four games is $10.00.
Victor vs John Jay

John Jay saw seven ties in their game against Manhasset which they won 11-10 on Wednesday.
Junior goalie Jack Browne was instrumental in the win, recording twelve saves including several one-on-ones. Leading the offense was Luke Mercer who scored the winning goal half-way through the fourth quarter and ended the game with 4g-1a. Bryce Ford added 3g-2aand Max Kesicki scored two goals.
John Jay last appeared in the finals in 2007, where Jamesville-DeWitt defeated them 13-11.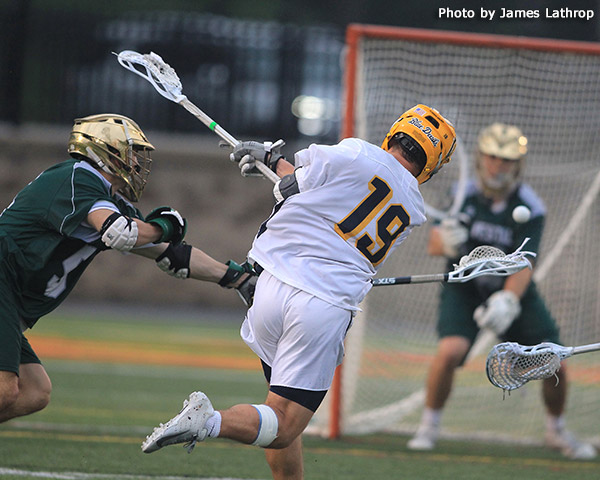 Victor heads to the State Finals for the fifth consecutive season after their win over the Section IV Champion, Vestal. It was a slow start for the Blue Devils, but steady scoring gave them the 12-6 win on Wednesday. Toward the end of the first quarter and into the third, they scored nine unanswered goals. Camden Hay led scoring with 3g-4a, with Joey Pezzimenti adding 2g-3a. Face off specialist Regan Endres won 18 of 19 draws for the Blue Devils which gave them a great deal of ball-time.
The Blue Devils remember how they felt about losing last year's championship game, which they lost to Garden City so they will be motivated.
The game will be played at St. John Fisher College on Saturday at 12:30 PM. Admission, good for all four games is $10.00.
Jamesville-DeWitt vs Shoreham-Wading River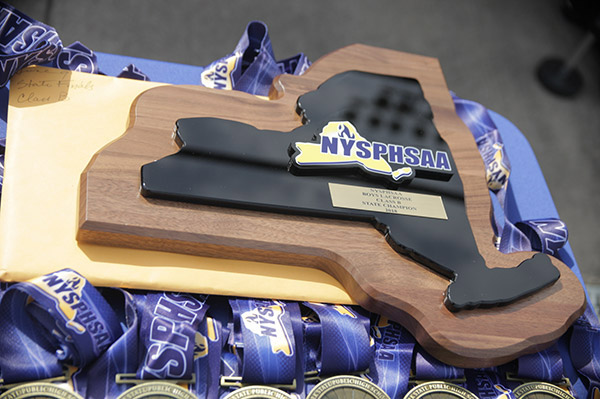 In the Class C, game, Jamesville-DeWitt from Section III will play Shoreham-Wading River from Section XI at 3:00.
Both teams have been to the big game a number of times. The Rams have been in the finals eleven times and have won five times, most recently in 2016 when they beat Yorktown 9-6 in Class B.
The Wildcats have won the Championship three times, most recently in 2012 when they defeated Penn Yan 10-6.
JD had little trouble with East Aurora from Section VI as they rolled to an 18-4 win on Wednesday. Matt Kemmis had six goals and William Davis added 4g-3a for the Rams who enter the game with a record of 20-1.
Downstate, Shoreham-Wading River likewise beat their semi-final opponents as they won 13-6 against Rye. Eighth grade attackman Alec Gregorek had 4g-2a while Dominic Visintin (2g-1a), Johnny Schwarz (2g-3a) and Gavin Gregorek (2g) added offense for the win. High scoring Xavier Arline (65g-65a) was held to one goal. The Wildcat high pressure defense created over twenty turnovers. They enter the game with a record of 16-3.
The game will be played at St. John Fisher College on Saturday at 3:00 PM. Admission, good for all four games is $10.00.
LaFayette/Onondaga vs Briarcliff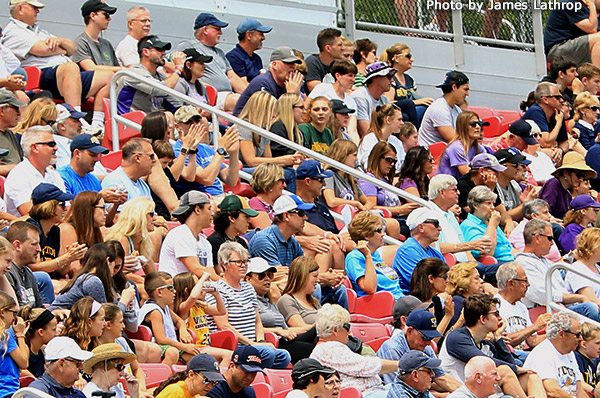 In the Class D Championship game, Lafayette/Onondaga from Section III will play Briarcliff from Section I at 5:30. The Lancers have been in the finals five times and have won twice, most recently in 2005. They lost to Manhasset in 2009.
The Lancers enter the game with a record of 12-7 after the win against Penn Yan. Dylan Lyons led the LaFayette offense with 5g-2a with Zach Delaney following with 3g-1a. Lyons has 54g-22a and Reid Jackowski has 50g-30a this season.
Briarcliff had a strong 10-3 win over Mattituck/Southold on Wednesday. Jack Ricciardi and Anthony Capasso both scored three goals in the second quarter and the Bears scored three goals in the last minute to take an 8-1 halftime lead. Briarcliff goalie Ian Leahy recorded ten saves.
Briarcliff enters the finals with an 18-4 record. It is their first trip to the Championship round.
When they win, the Lancers tend to win big. With only one exception they had no less than 13 goals. Even among losing games, there were only two games where they were held under 10 goals per games.
The game will be played at St. John Fisher College on Saturday at 5:30 PM. Admission, good for all four games is $10.00.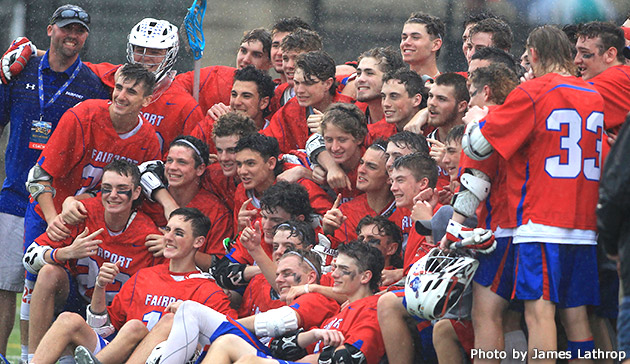 ---