Players of the Week - Group 4
May 1, 2019 -

Group 1 Group 2 Group 3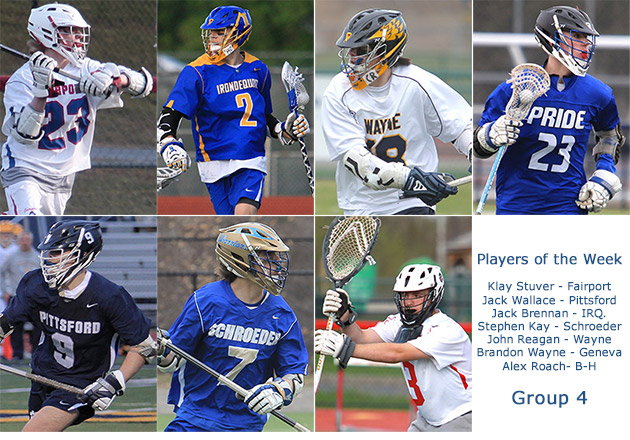 Offensive Players of the Week
This time we recognize two seniors and two juniors who made a difference for their teams this season, and in particular, last week.
Class A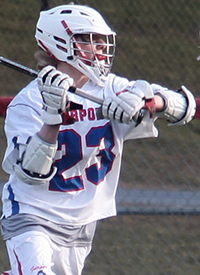 Junior midfielder, Klay Stuver has been an important piece in the success of Fairport, who has won the last eight games. In the Thomas overtime win, Kay scored the tying goal sending the game into overtime. He leads the team in both goals and points.
Fairport Coach Tim Soudan says "Klay is a great lacrosse player and steps up in big moments. He is a really tough player and has great field sense and is a great shooter."
Class B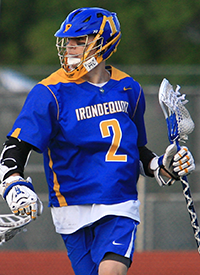 A four-year Varsity attackman on his way to Maryland, Irondequoit senior Jack Brennan has already racked up 30g-22a for the Eagles this season. Last week he scored 9g-5a even though he is heavily covered by experienced defensemen.
Head Coach Terry Coholan says " Jack is the total package. Four-year varsity starter. He's a great leader (one of our captains), a good student, very coachable, and is one of the best players in Section Five."
Class C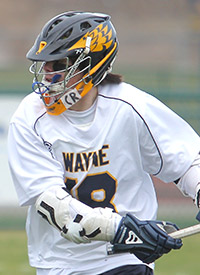 Wayne picked up another offensive player of the week, this time, John Reagan who is honored for his 14g-10 week which included three goals in their 11-10 win against Pal-Mac.
Head Coach Eric Carlsen says "As I expected, John Reagan has really grown as a lacrosse player this year. He is a savvy, intelligent athlete that also plays football and hockey. No matter the sport, Johnny plays with passion and grit - willing to do whatever he can to help his team win! I think he has finally realized his potential a lacrosse player and has even stepped up as a vocal leader among his line mates. His best days are still to come!"

Class D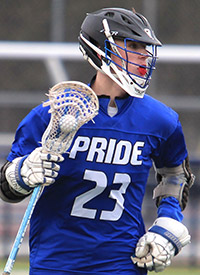 Senior midfielder Alex Roach is a four-year Varsity player with Bloomfield-Honeoye. He currently has a career record of 99g-54a, and scored 18g-10a in the last three games.
Head Coach Brandon Trombley says "Alex has been playing through injuries all season which has affected him in many ways. He has made the necessary adjustments to change positions based on what is best for the team. After this week it appears Alex may be back on track to lead us into the post season."
Defensive Players of the Week
This time we recognize we demonstrate that age makes no difference as we honor a senior, junior and a sophomore. Each made a difference for their teams from the start of the 2019 season through last week.
Class A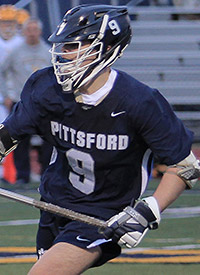 Pittsford sophomore defenseman, Jack Wallace has made the most of his increased in playing time and has made a difference for the Panthers. His quick hands and feet have resulted in 24 take-aways this year while collecting 24 ground balls, including 4t-5gb in the Panther 7-6 win against Canandaigua.
Head Coach Andrew Whipple says "Jack is a extremely athletic defensemen that has a great instinct for the ball. Jack also has great stick that allows him to be a threat to create offense in the transition game."
Class B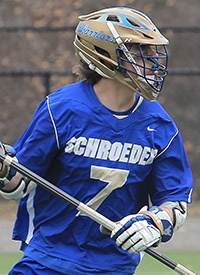 Webster Schroeder junior defenseman, Stephen Kay had three dramatic take-aways in the Warriors' 8-7 win against Penfield. Although stats are difficult for long sticks to earn, he works hard for ground balls and take-away and works hard to get the ball upfield.
Head Coach Jason Mordaci says "Stephen is one of those players who just shows up everyday ready to work and play hard with no excuses ever. He's made some crucial plays for us this season on defense, and he's starting to translate those plays into offense for our team. After loosing four starters from our defense last year, Stephen has made tremendous strides in his game to help make our team better."
Class C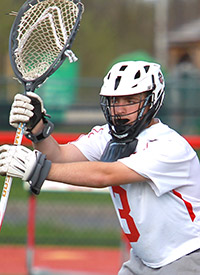 We have another player of week award for Geneva in senior goalie Brandon Wayne, who currently has sixty-six saves (59%). In the Pal-Mac game, last week , he made seventeen saves (74%) to help the Panthers win 10-6, with many at point-blank range.
Head Coach LJ Russell says "Brandon had big shoes to fill this year, taking over for Jake Drennen. His progress has been consistent and he has become a pretty good goalie. Brandon is making the most of his senior year and chance to start. In the Pal Mac game, he had 17 saves to lead a solid defensive effort."
Class D
There was no defensive award this week.
---