Endres Commits to Albany
December 18, 2018 -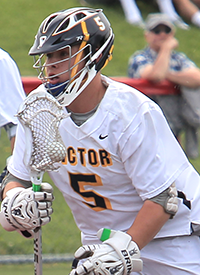 Victor junior face off midfielder Regan Endres has announced his commitment to play lacrosse at SUNY Albany after his graduation in 2020.
Last year, as a sophomore, the face off midfielder won 90 of 137 draws (66%) including going 7 of 7 in the NYS quarter finals.
In the off-season Regan plays club lacrosse for Sweetlax Upstate and has been a two-time member of the Under Armour Upstate team. He also played in the Inside Lacrosse Midnight Mania tournament in September.
He currently plans to study criminal justice and psychology at Albany where he may play with Section Five alumni including Corey Yunker (Churchville-Chili), Peter Schwab (Penfield) and Tanner Hay (Victor).
---