2018 Hall of Fame Dinner Preview
October 20, 2018 -
On Friday, November 2nd, the Rochester Chapter of US Lacrosse will install its 26th class. The event will take place at the Burgundy Basin Inn on Marsh Road in Pittsford with a social hour beginning at 6:00 pm.
The 2018 class includes five individuals and two teams as follows.
Dick Baran is a long-time lacrosse proponent, having served the Webster community for many years. In the 1990s he helped to secure funds for "after school at the box". He organized trips to see college games at Syracuse University, where his charges would meet with Roy Simmons Jr. and tour the locker room facilities. More recently he has served a director of the Webster Micro-lacrosse program and in 2001 was named Citizen of the Year.
Andrew Copelan enters as a player and coach. Andy was standout player at Pittsford where he earned All-American honors and helped the Panthers win a Sectional title in his senior year. He continued his successful lacrosse career at Bucknell where he earned All-Patriot League honors in 2003. The year after graduation he became the youngest Head Coach in the nation as he began two years at the helm of Marist College where he led them to their first winning season.
He was named MAAC Coach of the Year and led them to their first NCCA tournament game in 2005.
After serving as an Assistant Coach at the University of Maryland for three years, he was named the Head Coach at Fairfield University where he is in his eleventh year. In 2015 he was named Coach of the Year by the Colonial Athletic Association. Terry Cotton has been well-known in the lacrosse scene for many years. He is being honored "for his dedication to his community and for positively influencing the lives of so many student-athletes." A life-long Victor resident, he was a three-sport athlete, and was named Captain in both wrestling and track and is a member of the Victor Sports Hall of Fame. He attended Alfred State and RIT and played two years with the Tigers and later was a volunteer coach at JV and varsity. He has also been a long-time volunteer coach at Victor, helping in both JV and modified boy's programs and the varsity women's team. In addition he has, for many years, played in the adult leagues and tournaments including three World Festivals.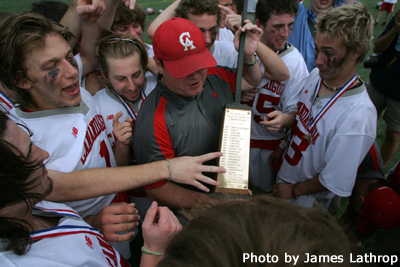 Ed Mulheron enters after over thirty years of service to Canandaigua. After three years of lacrosse at Canandaigua Academy he moved on to Geneseo and then Nazareth College before ultimately returning to the Academy with a teaching degree. A long-time assistant coach in both football and lacrosse, he served his last eleven years as Head Lacrosse Coach where he compiled a record of 161-59. His teams won sectional titles in 2008, 2009 and 2013. The 2009 team won the New York State title and they will also be inducted into the 2018 HOF class. Ed was twice named AGR Coach of the Year and his teams twice won GVLOA Sportsmanship Awards. He also served as Finger Lakes League Chairman and later, Co-Chaired the Monroe County League.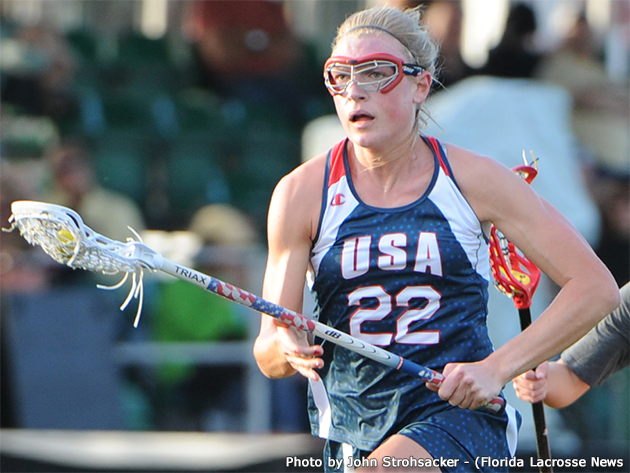 Danielle Spencer enters as a player and coach with a comprehensive sports record. At Brighton she led the Barons to a State Final in 2004 and a championship in 2005. She earned All-American honors in her senior year and was an All-Academic honoree in both junior and senior years. After graduation she played for Northwestern University where she contributed to three straight D-I NCAA championships. She was named an All-American twice and was also nominated for the Tewaaraton Award. She is currently the Head Coach at Dartmouth College and played professional lacrosse for the Boston Storm. Currently she is training with Team USA in preparation for the 2021 World Cup.
The 2009 Canandaigua Boys' Varsity Team enters as the result of their fabulous season that ended with the winning of the New York State Championship. After a "slow start" they won their last eight straight games, finishing with a 25-3 record and ranked third in NYS and 22nd in the nation.

The 2004 Penn Yan Girls' Varsity Team enters as the second Penn Yan girls' team to win a New York State Championship. The team was coached by Hall of Famers Patty (2012) and Harry (2004) Queener and finished the season with a record of 21-1. They won three of their last four games by a one-goal margin, starting with a 8-7 victory over East Rochester. Their semifinal win was against Manhasset (7-6) and the Championship game was a 7-6 win over Corning East.
---
The 26th Annual US Lacrosse, Greater Rochester Chapter, Hall of Fame Dinner will take place on Friday, November 2nd at the Burgundy Basin Inn at 1361 Marsh Road in Pittsford.
The cost is $40 per person in advance or $50 at the door. The social hour begins at 6:00 p.m. with the welcome and dinner scheduled for 7:00 p.m.
To make reservations, please go to the registration page.
---