Rochester Chapter Installs 19th Class
November 2, 2012 -
The Greater Rochester Chapter of USLacrosse held their 2012 Hall of Fame dinner Friday night at the Burgundy Basin Inn in Pittsford.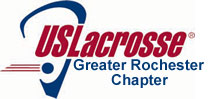 Over one hundred lacrosse fans and celebrities gathered to honor the nineteenth Hall of Fame Class.
The evening started with Chapter President Al McLiverty welcoming the fans and families. He made a number of announcements about the programs sponsored by the Rochester Chapter and invited everyone to join the other Chapter volunteers in the promotion of lacrosse.
Master of ceremonies, Mike Riorden, AKA "Blaze's father", started things off with some light-hearted comments.
Long-time local Penfield Coach Mark Rice led off the introductions as he presented Hobart All-American and two-time National Champion, John Hayes. Terry Goetz introduced Penfield graduate Brent Rothfuss who was a high school and college All-American and pro player. Long-time Fairport coach Randy Garrett dedicated a poem he wrote as he introduced three-time National Champion (Hobart) and pro player Jacques Monte. World-class goalie Brett Queener introduced his mother Patty Queener who started the women's program at Penn Yan and earned two State Championships for the Mustangs.

After Chapter President Al McLiverty's opening comments, Emcee Mike Riorden welcomed the class of 2012 and the families, friends and the large group of lacrosse "dignitaries" that included fourteen former Hall of Famers.
---
John Hayes

Former Penfield and current Fisher coach Mark Rice introduced John Hayes as a friend, competitor and family man.

John then took the podium and started his remarks by thanking God for the gift of lacrosse ("The Creators Game"). After thanking the Chapter and congratulating his classmates, he recognized his family, which included all ten of his children and their families who were all in attendance.

He noted that he is now in his fifth decade of playing lacrosse, although he suggested that these days he mostly "stands near the crease and waits for the ball". "The guys in my age group are those who once owned a wooden stick."

Hayes choked back tears as he recounted "rooming" with Cornell Star Eamon McEneaney at the North-South Game. McEneaney, a three time All-American, later tragically died in the Twin Towers.

He also noted that playing with long-time friends made the game special. "It's the greatest fraternity in the world."

HIGHLIGHTS:

Four years Varsity lacrosse at Clarkstown (MVP in 1972-1973, All League in 1973, Captain (1973).

All-American at Hobart (1977) where he won two National Championships (76-77) and was MVP for two years.

Hobart Captain (1977). Played in North-South Game and finished with 152 career points.

Asst, Coach at University of Rochester (1978-1979). Modified and JV coach at McQuaid Jesuit. Overseeing Irondequoit Youth Lacrosse.

Continues to play in masters and grand masters club programs.
Jacques Monte

Former Fairport coach, Randy Garrett, introduced Jacques Monte. He spoke about his near life-long association with Jacques as a boy and as a man and presented him with a poster sized copy of a poem that he wrote which highlighted Monte's accomplishments.

Monte then took the stage and told a number of stories about growing up playing for Fairport and then later for Hobart. He recounted that his team went to the White House to meet the President after winning a Champion-ship. "I hugged George Bush so hard that his bodyguards almost threw me to the ground."

After talking about his post-collegiate days, he said, "It's not about the times. It's about the people."

He said that one of the best thing he learned over the years was to learn something from everyone and "add it to your bag of tricks".

In summing up he said, "I learned from my community, tradition, and I learned a way of life. I am a product of my environment. I am proud of my environment. I'm thankful to be a part of my environment and I thank you very much."

HIGHLIGHTS:

Face off star at Fairport High School where he also excelled in football and wrestling.

Three time National Champion at Hobart (1988, 1989 and 1990).

Second All Time in face off wins at Hobart (64%).

Played professionally for Detroit Turbos.

Coach of lacrosse and football.

Assistant Coach for Rochester Rattlers.

Past President of US Lacrosse Men's Coaches Council.
Brent Rothfuss

Close friend and Nazareth teammate, Terry Goetz, introduced Brent Rothfuss, saying that Rothfuss is very talented, very passionate and a leader. He then recounted Brent's many accomplishments.

Early in his speech Rothfuss noted that "I have been lucky to meet some of the best people to be in my life. I have had great coaches and great friends and I am honored with a great family." He then went on to acknowledge each of his coaches starting with Mark Rice who allowed him be a JV ball boy as a third grader.

He said that one of the best lessons learned in high school lacrosse was that in it's best form it is always fun. "Whether is was a game, or practice or whatever, it was always fun."

He thanked his college coach, Scott Nelson, for taking his game "to the next level". He then talked about his many lacrosse friends. "All of you guys made my time at Nazareth so much fun."

"The best part about this game is the people that are involved in the game and the people that I've met."


HIGHLIGHTS:

High School All-American at Penfield.

Three time All-American at Nazareth. Division Player of the Year in 1997.

Two Time National Champion at Nazareth.

Played pro ball with Knighthawks, Greywolves, Rattlers and Cannons.

Coach of Pittsford Girls' team, winning two Sectional titles.

Back-to-back "Midfielder of the Year" (Div III).
Patty Queener

Pro goalie and "celebrity" Brett Queener introduced his mother, Patty Queener for her award. Speaking for his sister Sarah, who had hoped to give the introduction, Brett quoted, "My mother gave me life, she gave me love and she gave me lacrosse." "Those three things have made my life as joyous as I can imagine," added Brett. He continued with a couple of stories and after starting to talk about his mother, choked up and quickly ended with... "I love you mom."

Patty started her talk thanking the large group of Penn Yan fans for attending the dinner. She thanked one friend who is also a parent, "When you have a parent who is loyal and supportive and gets the other parents to join in the bandwagon, it makes a world of difference."

"I love lacrosse. I love boys' lacrosse. I love box lacrosse. I love women's' lacrosse. I just love the game of lacrosse. I love the beauty of the game. I love the stick. I love the ball in the air. I truly have a passion for the game."

HIGHLIGHTS:

Started the women's' program win Penn Yan in 1995.

Led the Varsity team comprised of many 7th and 8th graders to Sectional play-off in their second year.

Two time New York State Championships (1998 and 2004). In the first championship the team finished with a 24-0 record after defeating Garden City in the finials.

Won two ESG gold medals and two Silver medals.

Eighteen years as Head Coach at Penn Yan.

First Husband/Wife couple in Hall of Fame.
A copy of the dinner program is also available. For more pictures, check out the Gallery.
---