Hall of Fame Dinner - The Class of 2010
November 6, 2010 -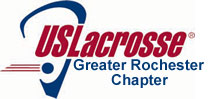 The Greater Rochester Chapter of USLacrosse held their 2010 Hall of Fame dinner last night at the Burgundy Basin Inn in Pittsford.
Coaching icon, Ernie Lisi who coached at Irondequoit more than forty years ago introduced Andrew Gallina. The second introduction was by Alex Mapstone, who spoke about his mother, Pam Mapstone. William "BJ" O'Hara was introduced by his brother, Jim O'Hara and Chris Schiller was introduced by his father Mark Schiller.

After opening comments from Chapter President John Houtenbrink, Emcee, Mike Riorden welcomed the class of 2010 and the families, friends and one of the largest group of "Who's Who" to attend the banquet in recent years.
Andrew R. Gallina

Andrew's coach at Irondequoit High School, Ernie Lisi, began the induction ceremony reading the long list of accomplishments of the local developer and businessman.

Andrew started his acceptance speech with thanks to the many coaches and team organizers who have helped make the Total Sports Experience indoor facility a place to develop off-season skills. More than one hundred and thirty lacrosse teams are enrolled in the TSE fall and winter programs.

He spoke of his fellow players at both Irondequoit and Brown University and thanked his family, including his wife Karen and children Lauren, Robbie and Evan for their support.


HIGHLIGHTS:

Two year at All County.

All Upstate Team

High School All-American at Irondequoit. Andrew was the first All-American named in Monroe County.

Ivy League Champion at Brown University (1972).

Played in NCAA tournament (1972).
Pamela Mapstone

Lacrosse is obviously an important part of the Mapstone family life as Alex Mapstone introduced his mother, Pam, in the second ceremony of the night. Alex and his younger brother, Andrew have been enjoying the game, learning from both their mother and father, Craig, who played at Hobart.

Alex received one of the biggest laughs of the night when he told a story about finding out that his mother had once scored eleven points in one game, and realized that was almost as many as their father had scored in his senior year at Hobart.

Pam was quite obviously touched and understandingly proud of her son's speech, but took care to thank the many people who had helped her throughout her career.


HIGHLIGHTS:

Three time All-MAC player.

College All American (1988).

Led MAC in scoring (1988).

Held scoring record at Gettysburg in goals (185), assists (48) and points (233) until recently broken.

Three time World Cup alternate.

Founded Rochester Women's Summer League.

Volunteer Assistant at Nazareth.

First Pittsford Women's Coach.

Director, Knighthawks Girls Camp.
William "B.J." O'Hara

Jim O'Hara introduced his bother, BJ, and told stories about how, as youngsters living with the West Genesee High School as their neighborhood play area, had spent many hours in pick up games and watching great lacrosse.

BJ had many people to acknowledge in his acceptance speech. He talked about the many different players and coaches that he had known over many years as player and coach.


HIGHLIGHTS:

High School All-American (1971).

Third team College All American (1974).

First team All-American (1975).

Hobart Team Captain (1975).

North South Game player (1975).

Finished career at Hobart as 2nd All Time in goals, 4th in points and 4th in assists.

Head Coach at Alfred, Dartmouth, Hobart.

Member of nine NCAA Championship coaching staffs.

Head Coach Rochester Rattlers.

MLL Championship in 2008.

Head Coach Chicago Machine.
Chris Schiller

It was a family affair as dozens of Mark Schiller's relatives attended the ceremony and listened to Mark Schiller introduce his son, Chris.

In his, often emotional acceptance speech, Chris took time to acknowledge the support he received from brothers and parents, who "never pushed" and "always supported" his career.

Thanking his wife, Jennifer, and daughter, Bryn, Chris thanked them for allowing him to be missing while pursuing his dreams.

Chris also spent time thanking his coaches, starting with Harvey Stoller in middle school, who he suggested was the perfect coach to introduce the love of the game. He then went on to his long-time professional career, where he played with many "icons" and friends.


HIGHLIGHTS:

High School All-American (McQuaid Jesuit 1995) and Collegiate All-American (Penn State 1999).

Team MVP and Captain (1999).

Rochester Knighthawks (ten years) and Rattlers (eight years).

World Champions Philadelphia Wings (2001) and Rochester Knighthawks (2007).

USA Indoor Team Assistant Captain (2001 and 2007).

Three time Unsung Hero Award with Rochester Rattlers.

Team USA (2010).

Gold Medal FIL World Championships (2010).
---