The Ivy League Gets DiGiovanni
November 27, 2018 -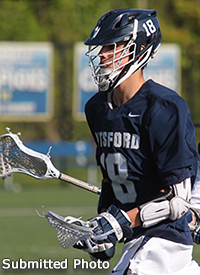 Pittsford junior midfielder Ben DiGiovanni has announced his commitment continue to study and to play lacrosse at Dartmouth College after his graduation in 2020.
Last year, as a sophomore, the lock-down midfielder gave the Panthers twenty-six points in fifteen games and was named to the MC-D2 honorable mention list.
In the off-season Ben plays club lacrosse for Sweetlax Upstate and is also a member of the Sweetlax National program. He attended the Maverik Showtime in both 2016 and 2018, was named to the All-Star Game at the 2017 Sweetlax Summer Invitational and was previewed as a top player to watch at the NLF Power 18 Event, featuring some of the best players in the class of 2020.
Ben has been with the Sweetlax program since the 6th grade and has been a member of the 2020 team from its inception.
He plans to study either medicine or economics at Dartmouth.
---