Saturday: Victor wins Third Straight NYS Title
June 10, 2017 - DAY IN REVIEW: For the third year in a row, The Victor Blue Devils won a New York State Championship. Pittsford lost as Ward Meleville overcame a five deficit in the last four minutes of the game to force the game into overtime where Matthew Grillo scored the winnning goal for the Patriots. In the class C game, Cold Springs Harbor overcame a 5-1 deficit and beat Jamesville DeWitt 11-9. In the first ever Class D game, Christian Brothers Academy defeated Westlake with a score of 12-5.
One minute it looked like Pittsford would win their first NYS Championship and the next minute they lost in overtime to a dertermined team from Ward Melville.
After trailing by five with 4:26 remaining, Ward Melville scored the final six goals of the game to win the Class A State Championship 10-9 in the first overtime period. Tournament MVP Eddie Munoz scored three of the five goals to force overtime and was a key offensive player for the Patriots. Defensive MVP Michael Giaquinto was also demonstrative in the win. He finished 19/22 (86%) at the face off and gave Ward Melville multiple extra attempts at the ball. His pick-ups allowed four goals in the final 1:01. Matthew Grillo finished with 3g-1a including the game tying and game winning goals. Later in the day, the Pittsford girls also played in the State Finals. Just like the boy's game, the girl's matchup went to overtime after a 9-9 tie in regulation. Pittsford girls defeated Middle Country 10-9 (HERE). STORY CONTINUES
Victor won their third straight State Title with a 9-3 win over Yorktown. The Blue Devils trailed briefly after Yorktown scored the opening goal. However, they responded with seven goals and controlled the pace of the entire game. The Huskers added two goals in the third, but they never came back within range. The Blue Devils were led in scoring by Class B Offensive MVP Alexander Mabbett with 2g-2a. Matt Gardner was named Defensive Player of the Game. STORY CONTINUES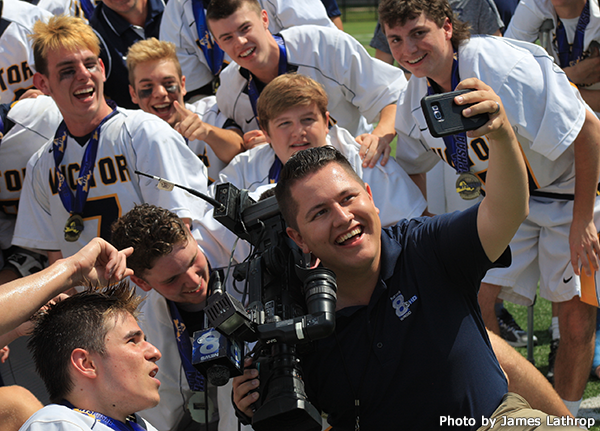 Today's contest saw the defending Class B Champions (Jamesville Dewitt) playing the defending Class C Champions (Cold Spring Harbor) and CSH followed Victor in winning their third consecutive State Championship. The Seahawks completed an undefeated season at 21-0 when they defeated JD 11-9 after coming back from a 5-1 deficit in the second quarter and an 8-6 deficit in the fourth quarter. Offensive MVP Taylor Strough finished with 4g for CSH. The defensive player of the tournament was awarded to Dylan Guarneri. STORY CONTINUES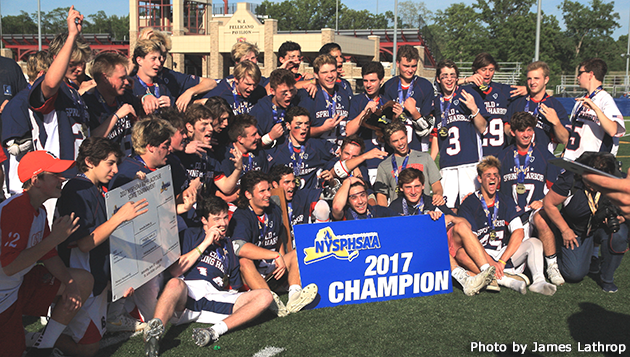 The Christian Brothers Academy took an early three goal lead and never trailed in their 12-5 win over Westlake to secure their first ever State Title and the first ever Class D Title. The Brother's Alex Calkins led the scoring list with 4g-1a and was named the tournament offensive MVP. Defensive Player of the tournament was awarded to Peyton Bowler. Although Westlake fought back hard in the first quarter, the Brothers continued their pressure and increased their lead all the way through the final quarter. STORY CONTINUES
---