Rochester Chapter Installs 23rd HOF Class
November 5, 2016 - The Greater Rochester Chapter of US Lacrosse held their 2016 Hall of Fame dinner Friday night at the Burgundy Basin Inn in Pittsford.

With the largest attendance in the event's history, over one hundred fans, friends, teammates along with many members of the Hall of Fame, gathered to induct four individuals, and for the first time, two teams into the Greater Rochester Lacrosse Hall of Fame.
Chapter President, Al McLiverty welcomed the fans and families. For the first time in quite a few years, Mike Riorden did not act as the Master of Ceremonies as he was honored as a member of the class of 2016. In his place were HOF members Scott Schwind and Mark Rice.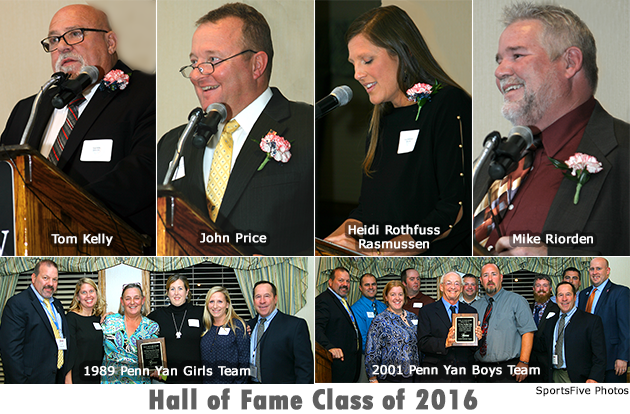 After dinner Amy Backus-Kelly opened the celebrations as she gave an emotion-filled introduction of the first inductee, her husband, Tom Kelly. Jeffry Price introduced his father John Price. Brent Rothfus, a HOF member had high praises for his sister, Heidi Rothfuss Rasmussen and Blaze Ridorden introduced his father, Mike Riorden. Hall of famer, Patty Queen spoke about the 1998 Girls Penn Yan Lacrosse team, which was the first team to be inducted and the first Section V team to win a NYS title. Nate Synder, a member of the Penn Yan 2001boys lacrosse team, introduced his teammates. Coaches Brian Hobart and Harry Queener also spoke about the 2001 team that was the first boys lacrosse team from Section V to win a NYS title.
A copy of the dinner program is available.
Galleries are also available: Group 1 - Group 2 - Group 3 - Group 4 - Group 5
---
Thomas R. Kelly
Player: Irondequoit High School - Farmingdale and University of Maryland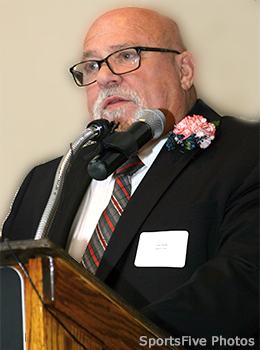 Highlights:
- Irondequoit High School League Championship Team
- Upstate Lacrosse Conference midfielder 1st team 1966 - 2nd team 1967
- Long Island Lacrosse Club B team 1968
- While at SUNY Farmingdale: National Junior College All American (1st team), Team Captain (twice), MVP.
- All Tournament Team 1969 and 1970
- Region XV Midfield, Most goals 1970
- Maryland NCAA runner up 1971
- Rochester Lacrosse Club 1967-1968
- Irondequoit Lacrosse Club 1968-1973
---
John Price
Contributor: Official - Coach - Program Developer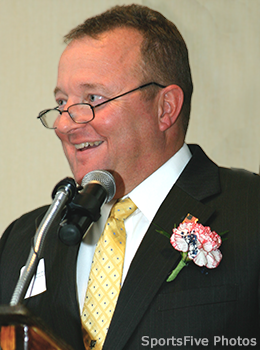 Highlights:
Founder/Director HF-L Lacrosse program 1996-2011
Coaches all levels through High School Varsity
Monroe County Man of the Year 2002
Monroe County Assistant Coach of the Year 2002
GVLOA member since 1986
Officiated all levels including high school games, sectional finals, Empire State Games Golf medal games
Current: officials evaluator for GVLOA
NILOA (College Officials) member 1988-current
Officiated NCAA and NJCAA games. NCAA tournament games, finals and championship, conference tournament games and ECAC playoffs.
Member US Lacrosse ILF Officials 1998-2014
Officiates 2002 World Championship Games in Perth Australia
---
Heidi Rothfuss Rasmussen
Player/Contributor: Penfield - Penn State / Coach / Program Developer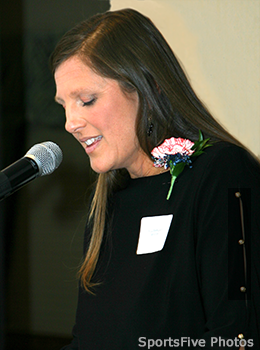 Highlights:
High School All American 1997
First team All League 199501997
National team 1997
Pittsford Head Coach 2001-2013
Section V Titles 2010, 2011
Monroe County Coach of the Year, AGR Coach of the year and NYS finals 2011
2012-current: Penfield Recreation Director/Coach 3&4 yearolds, 5&6 yearolds.
2016: Created and implemented developmentally appropriate curriculum for girls kindergarten division
Owner/Director: Lady Panthers Lacrosse Club 2001-current
Pittsford Youth Girls Lacrosse program Director 2001-2013
---
Michael D. Riorden
Player/Contributor: Rush-Henrietta - North Country CC / Coach / Official / Program Developer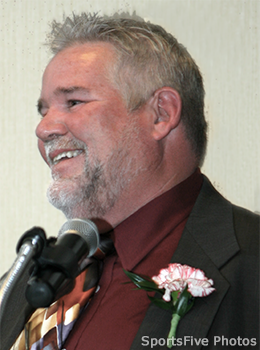 Highlights:
Played at Rush-Henrietta 1976-1980
1980-1983: North County CC - Captain in 1983
Men's lacrosse player from 1983 to current
Partner, Intense Sports
Fairport Youth coach
Initiated Fairport Travel team
High School lacrosse official 2000-2006
US Lacrosse tournament youth coach 2008 & 2012
Current Fairport Junior Varsity Head Coach
Greater Rochester Chapter HOF Master of Ceremonies 2008-current
---
1998 Penn Yan Girls Team
Players/Coaches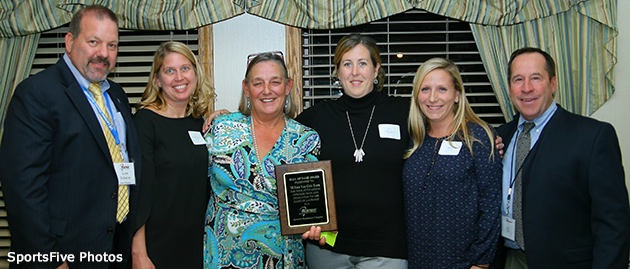 Head Coach: Patricia Queener
Assistant Coach: Jennifer Trombley
Team Members: Lorra Podsiadlo, Michelle King, Susan Payne, LeAnn Karweck, Jessie Trombley, Sarah Queener, Brianne Bastian, Jessica Lerman, Ellie Wigden, Heather Enos, Emily Lilyea, Katy Jensen, Melinda Skinner, Sarah Swarthout, Courtney Maggart, Alaina Hey, Kristen Carlson, Stephanie Smolos, Adrian Snyder and Erica Henderson
---
2001 Penn Yan Boys Team
Players/Coaches

Head Coach: Harry Queener
Assistant Coach: Brian Hobart
Team Members: Seniors: Ken Mayville, Brice Queener, Dan Martin, Chris Hammond, Joe Supple, Ken Colf, Tony Palmisano. Juniors: Mike Vanaman, Brian Chappel, Matt Karweck, Chris Manley, Patrick Brennan, Keith Colf, Shawn McNeil, Nate Synder, Matt Beckwith, Mark Beckwith, Calro Dirisio, Blake Archer, Sal Sciallo. Sophomores: Ryan Halbert, Brett Queener, Hans VanHouten, Jim Coriale. Freshman: Brendan Hamm, Derek Christensen, Ben McMinn.
Scokerkeeper: Eileen Jensen. Manager: Josh Morehouse.
Mike Vanaman was the offensive MVP of the State Chamnpionship game.
---
Other Hall of Fame Stories are available for - 2015 - 2014 - 2013
---