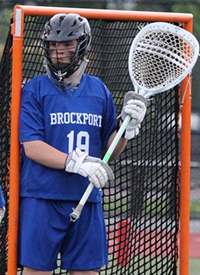 Ed Rowley
High School Information
Team:
Brockport
Graduation:
Transferred
Position:
Goal - # 19
---

College Information
College:
Alfred
Committed:
Winter
Search for News Stories
---
Section Five Awards and Honors
2018: All League Honorable Mention Goalie (MC-d3).
---
Comments
2018: Ed played with Iroquois Western Door team from Salamanca, NY. He also played box on the 2018 Rochester River Monsters team in their inaugural year.
Ed spent three years with the Roc City Warriors and has played for numerous other travel teams in various positions.

Comments and addition infomational can be provided by players, their parents or their coaches.
For information on submitting comments click here.
---
Varsity Scorebook Data
Year
Grade
Pos
Goals
Assts
Points
Saves
GA
% Svs
G Mins
2018
11
G
-
-
-
139
127
52.26
466
2017
9
G
-
-
-
9
12
42.86
48
TOTALS
-
-
-
148
139
514
More stats for Ed Rowley.
SportsFive started collecting full records for Scorebook data in 2007.

The Information presented on this page comes from a variety of sources including game reports, League Chairmen, Coaches and local media. To request a change or to update information, use the submission link above.