Class/Division Changes Make Things Interesting
March 29, 2009 -
PRESEASON - 3/29/09

---

1-

Thomas

2-

Fairport

3-

Schroeder

4-

Penfield

HM: GC, C-C, Pittsford

---

1-

Canandaigua

2-

Irondequoit

---

1-

Penn Yan

2-

Geneva

3-

Aquinas

HM: Bath, Livonia

---

One again this year, SportsFive will publish, each week, rankings in each class. SportsFive will continue to publish the New York State Sportswriters poll and will provide links to the Laxpower national polls.

---
Just want the Team Reports? Click Here
Some important things have changed this year, and some things are very much the same.
With a major change in the NYS Class alignments, Canandaigua and Irondequoit move to Class B, making that class much more challenging, while maintaining that exciting rivalry. Geneva and Aquinas, who have, in the past, elected to move up from Class C, now like the idea of taking on Penn Yan instead of CA and IQ.
The Section continues to grow with the addition of two new teams this year. Marcus Whitman will be coached by Bruce Teague, who has been with the players as they have been moving from modified to Varsity. East Rochester, couldn't wait to get to Varsity and new coach, Mike Domm, who was a standout lacrosse and soccer player at Brighton, has a team with only two seniors and twenty underclassmen.
There will be some exciting play this year and some dominating players including Irondequoit's Drew Coholan who was selected to the All America Team as a junior, and a host of Penn Yan players including Adam Trombley, whose resume is too long to add here.
Webster Thomas is loaded with talent this year and is a real threat for the Class A title. Although they have the mix of excellent offensive and defensive players that is necessary when Sectionals comes around.
Webster Thomas has been at the top of Monroe County Division two, since the Athletic Directors placed them there a number of years ago. Although they have won many league titles there, there have been some who worried about how they would play "with the big boys". Well, this is the year to put that issue to rest.
Graduation only took eight players from the Titans, but only two who were named to All County lists.
Offensively, the return of leading goals and points scorer Nick Scalzo who finished last season with 57g-22a, Jack Hinderland (32g-13a) and Brad Hutton (12g-9a). Hutton will replace Max Gurowski as the "Quarterback of the offense."
The midfield also has some high powered scoring threats with Kyle LaVallee (20g-13a), Pat Morrill (16g-10a), Kenny Tomeno (17g-9a), Billy Gurowski (10g-6a) and JT Hauck (14g). With eight of their top ten scorers returning to either the attack or the midfield, the Titans can produce offensive threat from anywhere on the field.
Defensively, the Titans are just as strong. AJ Glagolev returns as a dominant defenseman. Glagolev is joined by Mason Hill and Joe Amico to anchor a senior laden defense. Between the pipes, the Titans have two strong choices. Seniors James O`Neil and Austin Fox split time last year and both were strong goalies. O`Neil finished the season with 111 saves (57%) and Fox finished with 85 saves (57%).
Games with Aquinas, Penfield, Fairport and Irondequoit will allow the Titans to make a statement about their intent to take it all at the end of the year.
Fairport graduated eleven players last season and ten of them are continuing to play lacrosse in college. Even with the heavy graduating class, the Raiders return a number of strong offensive players.
Leading the charge will be Brendan Saylor (32g-13a), who led the Raiders in goals last season, and Aaron Jones (22g-27a), who led the Raiders in assists and points. Martin Manilla (16g-13a) will fill out the attack. The trio will be a formidable attack. At the midfield, Fairport will look to face-off man Michael Lehmann.
Defensively, Coach Mike Torrelli writes, "our defense will be led by three year starter Kris Sterzin in goal." Sterzin finished last season with 201 saves (59%). He is one of the top goalies in Section Five and will make many crucial saves for the Red Raiders. In front of Sterzin, Fairport will look to Kyle DeRosa, Ted Knowles and James Cunningham for protection.
Webster Schroeder graduated 17 seniors last year in one of the Section's largest graduating classes. Seven continue to play lacrosse this season in college including Mike Tota (Cortland) and Shane Farrell (Clarkson).
Tota's graduation hurts the Warrior offense, however, the return of attackman Cody Consul will help. Consul (29g-10a) led the Warriors in goals last season and will be a key for them this season. Chris Topping, Chris Mason, Mark Saltrelli and Pete Noto will be key midfielders for Schroeder. Topping will also continue at face-offs this season which will help get them ball time.
Schroeder's defense will be anchored by returning starting goalie, sophomore Scott Tota. Tota finished last season with 160 saves (58%). Coach Matt Petz notes, "we have some defensemen with experience in Dustin Kiellach, Ryan Martin and Mike Blood."
Scheduled out of league contests against, Penn Yan, Geneva, Amherst, Hamburg will help the Warriors see where they stand.
Penfield graduated 14 players including five 1st team All County players and an All American attackman. Connor Rice (Salisbury School to Marist College) will be hard to replace in the attack. Additionally, Academic All American Kevin Randall (Notre Dame) will be difficult to replace.
Offensively, the Patriots will look to two time Empire State Games player Kyle Van Thof (42g-42a) for leadership and offensive ability. Also returning are James Dwyer (26g-12a), Tucker Nelson (31g-5a), Gian Maggio (26g-4a), Kevin Westcott (9g-2a) and Tyler Zweifel (7g).
Defensively, senior Brady Del Pozzo returns between the pipes. Last year Del Pozzo finished with 111 saves (56%). Defensive midfielders are the strong part of the Patriot defense with short sticks Mike Vacanti and Kevin Walders and long stick Shane Cleveland returning. However, the close defense will need rebuilding with the graduation of Nowak, Rob Solomon, Jon Wheaton and Randall.
Long-time assistant coach John Schembri has moved into the Head Coach position, taking over for Mark Rice. The transition will be smooth and Penfield is ready for a big finish this year. Non league games with Loyola, Binghamton, West Seneca East and Orchard Park will help prepare for Sectionals.
Canandaigua, as usual, is deep. They graduated ten seniors, seven of which were named to the 1st team All County. Eight out of ten continue playing lacrosse in college
The new senior class is also looking ahead to college lacrosse with Marshall Johnson signing a letter of intent to play at Fairfield, Will Johnson is set to play at Eastern College, Tanner Scharr is heading to Belmont Abbey, Brian Scheetz is heading to Mercyhurst, Chris Tauterouff is
heading to FLCC, Evan Burley is heading to RIT, Matt Smith is heading to Cortland and Sean Regan is committing to Hobart. Additionally, junior Tom LaCrosse has an early commitment to Penn State.
Coach Ed Mulheron says "Our strength this year should be our depth. We have 33 players on our roster, 14 seniors and 19 juniors. Of those 33 players, 19 of them were with the varsity for all or part of last season and the other 14 join the varsity after going undefeated for two consecutive years at the JV level."
The Braves will look to All Tournament team MVP Marshall Johnson (19g-10a) in the midfield. As the face-off man for the Braves, Johnson was 21/26 at the face-off in the Section Five Championship game. Joining him in midfield will be Tom LaCrosse (18g-10a) and Gannon Osborn (9g-8a). In the attack, the Braves will look to Brian Scheetz (40g-28a). Scheetz will be joined by Tanner Scharr (22g-14a) and Will Johnson (13g-4a). The Braves will be a threat from both behind and in front of the cage.
Defensively, the Braves have key players in Sean Regan, Evan Burley and Matt Smith. Smith had a key role last season at both LSM and close defense. Regan will look to return late in the season as we recovers from off season shoulder surgery. Five juniors are in a close battle for the remaining positions including returning Tim Walker and new players Matt George, Adam Fingar, Jake Smith and Kyle Stanney.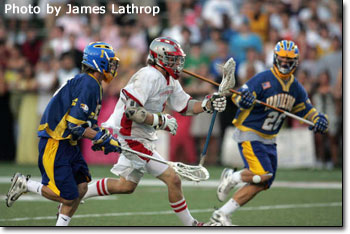 Coach Mulheron notes "In the goal we have a two horse race with senior Anthony DeLeo and junior Nick King. Both have played well thus far in practice. We will continue to evaluate them through our scrimmages." DeLeo comes into this season with significant time last season; 289 minutes at 64%.
Irondequoit graduated 17 players from their roster last season with seven continuing to play in college
Irondequoit has a number of threats this season, but most are overshadowed by Drew Coholan who is a true "Big Man" for the Irondequoit team. He was named All American as a junior last season and was named to the All Greater Rochester team for the second year in a row as well as being named to the All Tournament team for the second straight year. Joining him on offense will be sophomores Emmy Poccia and his brother Greg Coholan, as well as juniors, Ian Brooks, Mike Utz, John Padulo and Erik Kleehammer.
Defensively, Tyler Nash is another skilled player on the roster. Nash returns after being named to 1st team All County as a sophomore. He finished the season with 165 saves (60%).
Coach Craig Whipple says of his team, "Youthful would be the best way I would describe Irondequoit's disposition this year. We are looking for some young guys to fill in some holes early."
It is very possible that we will see a Canandaigua-Irondequoit rematch, but this year at Class B.
Penn Yan, for the second year in a row, looks to return one of the best attacks in Section Five. Matt Osgood led the Mustangs in goals and points last season with 92g-25a. Joining Osgood is Cole Castle (53g-16a) and Nate Nichols.
Moving from Attack to midfield this year is junior Adam Trombley who in attack last year led Penn Yan in assists with 30g-72a. He has been one of the most demonstrative attackman in all of Section Five for two years. Joining him will be John Linnan (36g-33a) and Brendan Minor (15g).
Defensively, Penn Yan will look to Ethan Kamholtz between the pipes. Kamholtz is returning for his second season. He returns with 210 saves (62%) last season, and has become yet another in a long line of strong Penn Yan goalies. In front of Kamholtz will be Scott Miller, Tim Dyer and Ryan Kerrick.
The Mustangs may have the strongest team in a number of years, which, given their long string of Championships, is saying a lot. As usual, Coach Hobart schedules non-league games with tough opponents. This year they have games with Hamburg, Carthage, Fairport, Schroeder and Amherst.
Geneva won the Class B title last year and they know what it takes. Last year they were able to beat Penn Yan (8-6) in one of the two league games. They also know how to beat Aquinas, who will also be looking for a spot in the finals.
The Panthers lost a number of strong offensive players. All Tournament MVP and 1st team All County midfielder Jim Warner (Penn State), all tournament and 1st team All
County attackman Kyle Boncaro (Goucher), 1st team All County midfielder Willie Rago, and all tournament and 1st team All County attackman and leading team scorer Alex Love (senior year at Salisbury Prep) will all be serious offensive losses for the Panthers. Goalie Kyle Brimm (Wells) will also be difficult to replace in the cage.
Offensively, Eric Legott (28g-12a) and Frank Triana (7-2) will both return to the attack for Geneva. Returning to the midfield are Chris Tapscott and Jeff Springmeir. Coach LJ Russell says, "We will depend on some young but talented players to fill the holes."
Defensively, the Panthers are much more stable with Tyler Travis, Bobby Martin, Mike Warner and Ross Dinan all returning. Dinan returns this year starting in the cage, last year Dinan split time with Brimm and is returning with a 55% save percentage with 107 minutes between the pipes. Travis, Martin and Warner were all named to the 1st team All County last year.
Aquinas graduated eight seniors from their 2008 roster, including Academic All-American Marc Brondon and GRALL Top 16 player Alex Gray in the defense.
The Little Irish will look to Austin Gorman in the attack. Gorman (40g-42a) will be joined by Cameron Corsaro (29g-13a) and Klay Heston.
In the midfield, the Little Irish look to junior Anthony Bianchi, a two time GRALL Top 16, as the a leader in the midfield. Joining Bianchi is Mike Messina.
Kraig Heston returns for his second season after being named GRALL HM and to the Class C All Tournament Team. Heston had a 64% save percentage last season with 266 saves and has signed to play for Binghamton for next season. He will look to two time GRALL HM player Mike Owens in the close defense for protection. Casey Vogl, a midfielder last season, has switched to close defense and is looking to put his AGR football running back skills to use.
More in depth stories are available for each of the thirty-two Section Five teams.
---